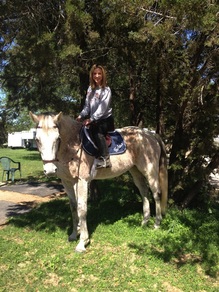 About Me...
The first question people often ask me is why I chose to become a therapist. The answer is simple. I followed my heart. After having several different successful careers, I finally decided to do what I had always wanted to do: become a therapist.

I obtained my Bachelor of Arts from St. Edward's University in Austin, TX with a major in Psychology. I obtained my Master of Arts in Counseling also from St. Edward's University in Austin, TX, and obtained both my Licensed Professional Counselor and Licensed Marriage & Family Therapy licenses. I am also a certified trauma-focused equine-facilitated psychotherapist (TF-EAP) and am a member of the International Association of Eating Disorder Professionals (IAEDP).
I honor my clients' therapeutic process, and I regard it as an honor to be invited to walk a part of that journey with them.

I fully believe in work/life balance. I believe that in order for me to be completely present for my clients, I need to also take care of myself. Thus, in my leisure time I enjoy hiking, practicing yoga, playing with my therapy dog, "Zoe," riding my therapy horse, "Gotcha," and spending time with friends and family.